QuickPasswords By: Axel Grude
About this add-on
Retrieve your Passwords the quick way! Never retype or display your secure passwords on screen anymore - put the password where you need it - the login form or the clipboard. Now also includes SSO change (multi-domain pw) and Backup + Restore.

Instead of displaying a password, when you need one, use this nifty toolbar button to jump straight to the password manager and copy it to the clipboard.

I was always annoyed by the fact that the Password Manage displays not just one Password but a whole list - this extension removes the need to display any password on screen, and gets rid of the inconvenient "typing off screen". Now your passwords can be as complicated and secure as you always wanted!

Also, it filters results based on the domain name so you don't have to look quite so hard. Especially useful for developers who have to work a lot with different login pages. Additional features include:


Simple one-click login on pages that do not trigger password autofill. If your browser still has difficulties filling these, both password and user name will be available from the context menu.
Backup / Restore passwords. The passwords are normally encrypted but with a masterpassword you can also export them as plain text. Newer Passwords will be merged depending on last used date stamp.
Correcting textbox names of username / password. If you use the "one-click" login button (green arrow) on the password list and the field cannot be found - which is most often caused by changes in the site - you can use the context menu to insert it in the correct place. QuickPasswords will prompt whether it should update the target so it remembers for next time.
SSO password change -with this QuickPasswords feature you can change multiple matching passwords for the same subdomains in one operation. This saved me many hours in a big corporation that regularly required frequent password updates.


For more info, go to the QuickPasswords Homepage. Also, visit my YouTube Channel Thunderbird Daily for more information about my Add-ons.

Preview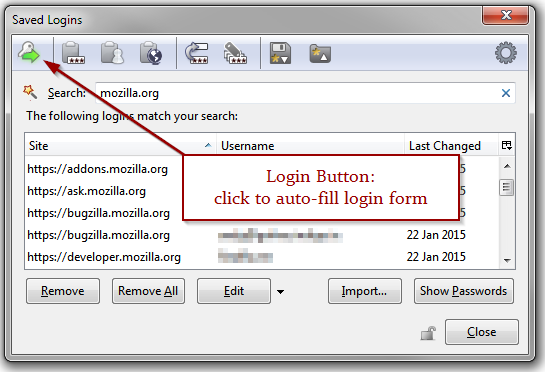 Download Now