Dorando keyconfig By: Dorando
About this add-on
To this day, this appears to be the best key binding extension for Firefox and other Mozilla (and Mozilla-like) applications. Even the Mozilla wiki recommends using it.

The original add-on by Dorando can be found at http://mozilla.dorando.at/readme.html. This version is functionally equivalent to the original, but compatible with newer versions of Firefox (but not the newest, post-XUL Firefox versions), Thunderbird, and SeaMonkey and with Pale Moon.

If you have questions about how to set things up, please check out the original forum page at http://forums.mozillazine.org/viewtopic.php?t=72994.

Directions to use:

Install the add-on and restart the application.
Open the config screen by in one of the following ways:
press Ctrl-Shift-F12 (configurable);
open Tools | Addons or the Addons Manager and pressing the Preferences or Options button for Keyconfig; or
Click Keyconfig... in the Tools menu of the menu bar.
The rest should be self-explanatory.

Known Issues:

You cannot disable keys that belong to the OS, like Cmd-Q closing Firefox in Mac OS X. Check the Help or search the Internet for how to disable these features for the OS itself. Windows users may find AutoHotkey to be useful.
Preview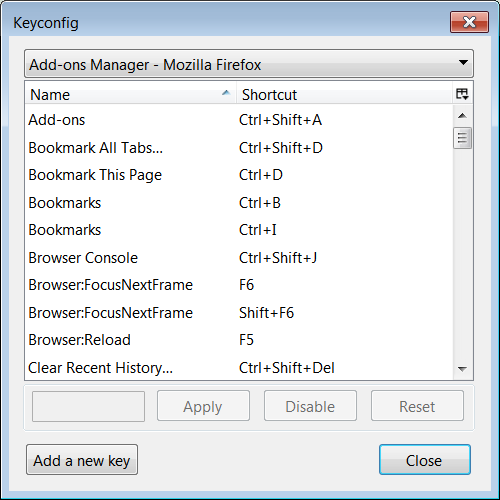 Download Now