Classic Password Editor By: Daniel Dawson
About this add-on
This extension allows you to enter data into the Password Manager database instead of relying on Pale Moon, Thunderbird, Waterfox, etc., to do it, as well as making changes to existing entries. For web forms, the typical usage is as follows:

Navigate to the page containing the login form.
Right-click on one of its fields and select from among "Save login info" (to create a new entry), "Edit login info", and "Delete login info".
If another popup appears, select the username for the entry you want to operate on.
If adding a new entry, everything except the username and password should be filled in automatically. Fill in anything that is missing or incorrect.
If adding or editing an entry, reload the page or return later. If the form doesn't get autofilled, most likely the page is asking the browser not to autofill it by declaring autocomplete="off". Try clicking twice on the username field and selecting from the dropdown list. There is a video demonstrating this workaround.
This add-on also adds commands to the Password Manager window, which it makes accessible through Tools > Saved Passwords as well as a toolbar button.

If you need support, please go to the support web site I have listed or email me (link on the details page, next to this description).

This add-on is a fork of Saved Password Editor, made for applications other than Firefox.

Bitcoin donations to 3NrNzx12gTcF3XK5wuYJfqBjXhTxcdsBHR
Litecoin donations to LWRj5yys6sATyG6h91wHGf9sFG5c92GchA

Preview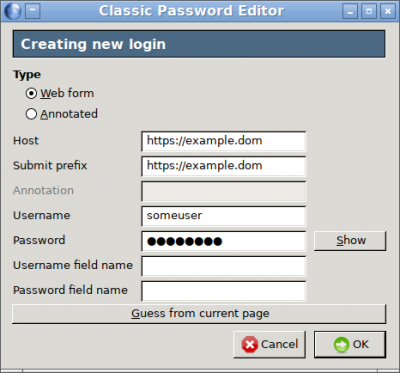 Download Now